Send us news, racing results and we will try and publish them here.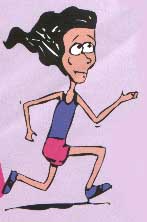 of
Nov 2006-Read Alicja's fascinating story- running through the desert of Africa.

Ralph Balsamo 11/17/46 to 1/30/06


I did a check on Ralph and found he finished 8 Sybil Ludington 50K's.
Those runs included some good results: two 3rd place overall, and one 4th.
He also ran his last Sybil in April 2004 when he finished in 22nd overall at age 57 in 5: 26:36.
He was a lovely gentle man who will be much missed at Sybil as elsewhere.
I attach a photo which I made of Ralph (on left) at the 2004 Sybil. He runs with good friend Joe Puglisi.
David Farquhar

Alicja goes from the desert to the freezing cold 2/25/06

Hello Friends,
After 50 minutes of flying on a small plane from the Winter Lodge on the Finger Lake to Anchorage, I was
back to the civilization and to a medical help that I thought I did not need.
From the Best Wester Hotel, I took a taxi to the Medical Park Family Care where I was diagnosed with a
Salmonella infection.
It was this nasty bacteria that pulled me out from the race. Not the Arctic winter, the 40 mph wind from the
Bearing Sea, nor the -30F on the Yentna River but a little creature, a little bug that infected my tummy
and stopped me from exploring life of the last frontier. I was fighting and trying not to give up. I fought as
much as I could. But two nights and two days spent in a cabin without water, toilet, with a fever and
uncontrolled sever diarrhea defeated me!
Now, I am resting in the hotel as I need to regain a strength to travel back home.
Last Saturday, we started the race in Knik in a heavy snowfall. Quickly the icy trail was covered with
several inches of the white fluff. It was not easy to run as our feet were sliding in all directions.
Bikers took off using a different route which was a little longer but easier to peddle on. I kept on the
trail that rest of runners and skiers took. I ran with Tim Hewitt and Tom Jarding.
30 miles into the race, the Red Bull tent on Flat Horn Lake was a blessing from the sky.
A big bonfire glow the sky and two bowls of warm jambalaya warmed our getting cold body.
I took off all my upper clothing as all got wet in this heavy snow fall. I was prepared for a
very cold weather and didn't think to bring something for a wet snow. It was a good thing that I had brought
extra clothing. From that point we had another 20 miles to Luce's Lodge, the first check point. On this stretch I got
lost for a few hours last year. I was worried that I might make the same mistake so I kept close to Tim and Tom.
I was in front and followed the bikers trucks. We saw same snowmobile coming from right to left in a
near distance but we still continued straight. Suddenly Tom said, "hey guys, we are going in the
wrong direction". I replied; 'That can't be. Look at the bike trucks and that one skier..... they can't
possibly be all going in the wrong direction". However, Tom insisted that we should go back and check
the trail where the snowmobiles came from. Sure enough, it was the right thing to do and we were safe
by Tom. Most of the bikers were lost and they made extra miles finally realizing that they were on a
wrong trail. Unfortunately, this mistake caused Cloe Lanthier-Brander a case of hypothermia and she
couldn't make it on her own to the Luce's lodge. She was saved by two doctors who coincidentally were
traveling on a snowmobile, and they gave her a ride to the lodge. When I got to the Luce's Lodge she was
laying down in a bad shape and Jeff, (her husband), was looking after her. They planned to take her out
by a small plane at daybreak.
I left ahead Tom and Tim, as I needed to make an extra stop at Slim's Lodge where they have a dryer to dry my
wet clothing. At Slim's I spent four hours as the first 2 hours were
the shivering stage and the next two were just resting time. Sandy, (the lodge owner), dried my clothing and
I fed myself with a bowl of veggy soup. Ray Mollina was here resting too. I left before 7PM followed by
Sandy's two dogs. They didn't want to turn back and I was worried that they would get lost or I would've
needed to take care of them also. Finally, after several stops and telling them it is nice that they
kept me company, but they should return home as it was dark now and the wolves may have an open eye on them.
When I mentioned wolves, they got the hint and stopped following me.
I reached the Skwentna River and I knew only three more miles separated me from the warm room of the
Skwentna Road House check point. I planned to sleep there for four hours, but at night navigation is not easy.
I saw good tracks of the bikers and a skier and footprints of Tom and Tim who passed me while I was at
Slim's, but all these tracks disappeared. I did remember that I had to make a left turn to the
Skwentna, but it was not there. I was going back and forward on the few miles stretch. It was dark and cold
and crunchy snow and I couldn't find the Skwentna check point!
One snowmobile trail took me to the area with a few log cabins. I knocked on each of them. One had a
snowmobile in front. That was an excellent sign for me. While I was knocking, I was calling.....'don't
shout...I am lost....I am looking for the Skwentna Road House". A older scronny man, who didnt understand
my accent came out and gave me the directions, I was so thankful for him doing giving me those directions
that I almost gave him a hug, but I held back my emotions. I didn't know that there were two entrances
to the Skwentna: one from the Skwentna River and one from the leg of the river. This year we came from the
side that I was not familiar and the tracks of my friends vanished under a snowmobile which had probably
passed not long ago. I was very unhappy entering the Skwentna.Why they didn't put a sign that this is the way
to the check point, was beyond me. From 10:30PM until 2:45AM I was searching for this lodge!
Tom and Tim were already rested and ready to leave. I needed to rest a little. Ray Mollina was getting
ready but he said he will wait for me. I sat down on the couch and set my watch for one hour.
It rung immediately! With Ray we left the lodge at 4:30AM.
Of course biking can be very easy when the snow is well packed.Soon Ray vanished in the darkness.
A few miles away I found him sleeping in the middle of the trail and telling me that we are probably on the
wrong trail! I replied; 'Impossible, we always take the first trail to the right'. For the next several
hours we were not sure if we were on the right or wrong trail as the GPS is good for a direct line but
not for a zigzagging trail. Finally, we realized that we are on the wrong trail and we will continue as it
is pointless to go back. We should reach the Historic Iditarod Trail, (not in use now by the dog races) and
we should get above the Shallow Lake Lodge were we planned to stop for a hot meal. We moved like two
turtles on this zigzagging up and down narrow trail. We even lost our faith that we'ed ever reach the
Historic trail when God sent us two snowmobiles and they delivered us the good news; we are not lost, we
were on the right trail, and to Shallow Lake is another five miles. Yippy!
At Shallow Lake lodge, it wasn't the official check point but most races stop her for a hot meal. I ate
two eggs, bacon, and a pancake. At 1:15PM I left the lodge with Ray sleeping inside.
Now I got two more dogs that followed me. I had to do the same exercise as with the previous dogs at Slim's.
Finally, these dogs stopped following me, although one of them I liked very much and I wouldn't have
minded to adopt him. Shortly after, I saw a wolf running on the path in front of me. He ran, turned his
head back, ran more, again turned his head back, then he got off the trail to the right but there was to
much snow so he ran more in front of me and finally he turned left and disappeared behind the trees. Seeing
him I wasn't afraid, and still when I think I am not afraid, it seemed so natural....he was the part of
Alaskan nature.
With my speed level down to zero, it took me a long time to get to the Finger Lake. With the sun going
down, the wind started piking up and soon blew in a full speed of 40 mph, blowing the snow across the
swamps and filling up the trail. Now the walking was down to strolling, several bad steps and I was in the
snow up to my waist. When I saw the lights of the airstrip runway on the Finger Lake, I knew it was fine.
I reached the lodge a few minutes before 9PM, on Monday. I ate rice with beans and salsa. With Tom
(who came shortly after), we decided to sleep for four hours and hit the trail again.
We claimed our drop off bags (the 2nd is in Rohn), and went to the cabin.
In the cabin was Alan Tilling and JRajko Podgornik who pulled out from the race due to Achilles problem
(Alan), and knee problem (Rajko). After two hours of sleeping I woke up with an urge to vomit. (I woke up
all of them as I couldn't open the stupid door). Then one hour later I started a shivering and uncontrolled
diarrhea.
Other racers came, rested and left but I was kept by this unfriendly Salmonella that doesn't have even a
slight idea how much time I spent on preparation of this race, how much money I spent on this race.
How many people I betrayed because I didn't finish and they donated money to the
Alzheimer's Memory4Life fund raiser.
I apologize to all whom I betrayed. At the end I feel betrayed too.....
Would I do this again? I can tell you now, I am
bringing my sled home but not my poles, so it is 50:50for now.

Big hug to all of you. As always, I tried my best.
Alicja



Olga's request to aid a good cause
Hi Everyone, here comes Olg's request, let's save the Avalon... please read
below...

Olga,
I have had the opportunity to be in Catalina Island and climb the Avalon,
not as you'll be doing it, by foot, but on in the Tour bus. It's a
beautifulplacee, I wouldn't mind to rest forever with all the buffalosup
there. I take my " cap" for you!! You go girl. I'm positive you'll have all
the successin this race that you deserve because you're capable of it.
As for myself, I'm coming out of a painful injure and long one, , so I
decided to celebrate i with a big challenge,going to JFK without being
running since the Pioneer September the 5th. Yes, I finish under 13 hours
I'm very happy, as if I had finished my first race ever... whichmeans...
I'M BACK!!!
Keep in touchh.
Lucimar
OK, guys, I don't do it often. In fact I never do it, I even never sign up
for kids' stupid school candy distribution, but here it goes. I am running
this next race on January 14th on Catalina island in CA, and it's a benefit
race. What it means is that besides paying my entry fee (what I did) and
getting all the tickets/accommodation, I need to collect pledges for the
Island's school and hospital system. You can check out the website at
www.avalon50.com. I jumped into it before I read about it (as well as goes a
lot on fire roads - duh!). But I want to do it right. So as they say, no
amount is small amount. You can do whatever cents per mile (it's a 50 miler)
or just any sum, or nothing at all - that's fine by me. You can write a
check to Avalon Lion Club or give me cash with a name written on a piece of
paper. Whatever works. It would be great of I could put it all together by
December 1st.
My address is :
16276 SW 104th Ave
Tigard, OR 97224

You don't have to respond, that's the easier way.
Hoe ya'll doing well. It's winter time!
Thanks a bunch, and again, it's not a cry for help, but something I am
trying and see if it works. It's a huge list, so if 5 of you respond - I
feel like I fulfill someones dream:)
Olga

way to go Debbie
Just so you know, Deborah Lydia Redding ran the Nifty-50 Miler in Newport, Rhode Island on October 22,
finishing in 10 hours, 10 minutes. In spite of the poor weather, she did a great job!
Next up for her, the JFK 50 in Maryland on Nov. 19.
================================================

Read an article about a "young" 70 year old Ultra Runner !
================================
A big thank you to all the participants-runners and volunteers at the Pioneer 100 race over the Labor Day Weekend.
Your support and encouragement pulled me through one of the best and challenging races I have done so far.
I especially want to thank Ritch- he is the best race director- for giving me an early start and encouraging me all the way.
"Thanks Ritch." It is very true what they say about ultra runners--"We do care about one another."
Thanks again guys, see you at the races and such.
Eustratia
==============================
Phil McCarthy-Wasatch 100
I am writing this story on behalf of Phil McCarthy, my brother on his experiences in the Western States 100.
The terrain for this race is not only spectacular, but formidable. Beginning with a steep climb, the course looks like
an EKG reading the rest of the way. The weather was warm at the start, and the runners had an excellent day to run.
I was amazed at the mood the runners, jovial, fun-loving, almost relishing the challenge that lay before them.
The event was incredibly well organized, and to this day I am still in awe of the logistics it took to run such a successful event.
Phil had a very good race, finishing in under 24 hours at 23:37. He actually out ran his escort runner who he picked
up at the 70 mile mark. She is an experienced marathon and trail runner, and when we picked her up at the 85 mile mark,
she told us that she just could not keep up the pace and was afraid she would slow Phil down.
Phil was well prepared for the event, and other than the sore and stiff muscles/ feet, finished the race in good shape
================================
Sometimes elite runners have a bad day like the rest of us!
Read Alicja's story from England
We will see
By Alicja Barahona
I was heading off for my third extreme race within six months but I didn't know I was heading for a disaster. Winning a 555km non-stop race through the soft dunes and hell temperatures of Tenere (the Sahara Desert in Niger) was an unprecedented success. Even the suntan hadn't faded from the Trans 555 when I started out on a new extreme challenge, a 550 km non-stop, on the famous Iditarod Trail in Alaska. This was like a cold shower after a sauna as the race took place in the middle of the Alaskan winter and it ended up with another success. I was the only female runner to finish this race.
"Never take a step back during a race" and learn the race rules so you will not be trapped in the same situation that I found myself in during my third race in England. After 85 miles of this 145 mile race down a canal, I became very cold and my stomach was not happy. I had not eaten enough and I had run out of water three times between check points. I was shivering badly and obviously hypothermic when I met my handler on the towpath. A light jacket she handed to me didn't help at all. After 15 minutes of walking I returned with my handler to her car and there I took 2.5 hours to try and regain a comfortable temperature to restore equilibrium to my body. When I was ready to leave I was told by my handler that she pulled me from the race as I had exceeded the 40 minutes limit for resting time in the race rules! I never paid attention to this rule in the same way that I never pay attention to the cut off times in any race as I am usually at the front of the runners' pack and not at the back.
It was my fault that I didn't study all the race rules but having a handler I should have been reminded of such a stipulation. I had a wool hat and gloves, and warm thermo shirt and tights with me. I didn't think about wearing them as I was more concerned with keeping moving and running than preventing the onset of my hypothermia.
I still don't understand how this happened as I didn't think for one moment about pulling out from this race. Now, I am analyzing what went wrong! This race is history but I hope not to make the same mistake again. Pulling out from an ultra race is not the same as pulling out from a short race. It takes a lot of hours of training to be an ultra runner and the overall cost to ones body of such a race is much higher too. I feel bad and dissatisfied. I feel empty. The worst thing is that I was doing this race to raise funds for the Alzheimer's Association, and now I feel as if I disappointed all my supporters. In a way it feels like I betrayed them and myself. I started a Memory4Life program and I am sure that the unsatisfactory conclusion to this race will stay with me in my memory for the rest of my life.
I had won this particular race twice before, but with this year disaster I am hungry for more 'well done' shouts from the English passers by. I would love to be enchanted once again by the beautiful surroundings of the Grand Union Canal towpath from Birmingham to London during another 145 miles race. Will I do it? We will see.
===============
Read tributes to Uktra Legend Johnny Kenul
Betsy Magee reports on the Extreme workout 50/50 in Central Park

DATELINE: EXTREMEWORKOUT 50/50 ULTRA RUN-NEW YORK CITY-FEB.19,2005
Extremewas the distance and Extreme was the cold. The first Extremeworkout 50/50 Ultra Run in New York City was a success by all measures. We kept the candle burning for Ultras in New York with warm hearts and a hearty spirit as the 50 mile runners started the a "Go" from the legendary Ted Corbitt, who is on the Board of Directors for Extremeworkout. The pace was set by Albert LaPorte and Phil McCarthy, both New Yorkers and both elite ultra runners.
The 50km runners roared out of the starting line an hour later, with veteran and elite runners such as Dave Obelkevich, Don Davis, Roger Byrom Lucimar Araujo and Deborah Redding.
Admas Belilgne was the guest celebrity, who came to support the race by running a fun 20 miles. Admas has one of the most admirable and lengthy marathon and ultra records in the world. She wins at least two ultras a year and always places in worldwide competitions. It was particularly poignant to have Admas and Ted at the race, since Admas won the Ted Corbitt Trophy in the London to Brighton Ultra race in England a few years ago. We added a 4km race to the event, and Ted Corbitt, who is the founder of ultra running and who is 86 years young, not only went the distance but won first place. Next year, Ted will be the man to beat.
I not only sponsored this race, but also put it on, with the very necessary and capable help of my colleague, Albert LaPorte. Albert went to the route along the East River repeatedly to measure the course, alternately using a GPS and a calibrating wheel in order to ensure the accuracy of the course. The skyline of New York, which is breathtaking along the route, created a memorable experience as he charted the course. In preparation for this race, we discussed the fact that the runners; their comfort, their safety and their enjoyment, are paramount features of the race. And, the race itself; we always, always respect the race, which is bigger than all of us. Ultra runners all bring their own story to the race and the sport. We are people who train and run twelve months out of the year. The soul and spirit of an ultra runner is difficult to explain and even though all of us have a different story and reason for running, there is still a connecting and underlying thread that brings us together for these extreme distances. Today, the day after the race, I cannot stop thinking about the race day and all the touching moments of the day. What an honor to be a member of this group.
Phil McCarthy, who won first place in the 50 Miler, is a classically-trained pianist and singer who works for a classical music publisher. He is building a remarkable reputation in the field of distance running.
Don Davis, who won first place in the 50km race, is a Lehigh University math professor, and a veteran ultra runner.
Lucimar Araujo, who won first place in the women's 50km, is a originally from Brazil, and since living in New York, has developed a passion for ultra running. She does much volunteer work with children.
Martin Coleman of Rapid Shutter, took the most spectacular photos of the race and he built an archive for us of the event.
Winners:
50 Miler:
First Place: Phil McCarthy 7:28:20
50km
First Place: Don Davis 4:55:00
Second Place: Dave Obelkevich 5:42:15
50km Women
First Place: Lucimar Araujo 5:37:15
Second Place: Hanna Ben Shoan 5:42:15
------------------------------------
Alicja conquers Alaska 350
I am back from Alaska. It was a very difficult race for me as I had a sore throat and a cold just one day
before the race. I also had an electrolytes imbalance and I was swollen after the first 24 hrs of the race.
Then I got an upset stomach after eating some food at one of the lodges. I had a fever
and I just didn't want to quit as I thought about the fund raising and the people who donated money in my
name. At 130 mile lodge, I rested the entire night and day.... but on the following night when I felt a
little bit better I attached my sled to my waist and went again into the darkness of the night.

I crossed the Alaskan Range at 6000 feet!
I also fell down on the ice (twice) you can just imagine how much you hurt (butt) when you fall! I had
to move for the next two days with this discomfort.
One thing that kept me going was the hope of helping Alzheimer's patients and those who take care of them.

The highlight of the race was the spectacular scenery of the Northern Lights. I saw this remarkable,
unforgettable sight during the last two nights of the race.

I am very grateful to Online Satellite Communication Inc for loaning me the Idiruim phone. After my first
swelling I called my sister-in-law in Poland and we discussed my problem. She told me that this must be
due to the electrolytes imbalance, therefore, I stopped adding any sports powder to my drinks and I
drank just water during the race. Without such communication I would be worried that something else
might be wrong with my organs.

Just two women were lucky to finish this rac Gail Koepf on skis (Fairbanks, Alaska) and myself on foot
(White Plains, NY). It took me 7 and half days to complete the 350 miles Iditarod trail from Knik to
McGrath. It was the whitest and wildest 350 miles!
Best regards,
Alicja
-------------------------------------------------------------------------------------
Byrons speech from the Grand Prix Awards Brunch- Feb 6,2005

REFLECTIONS ON A RUNNING LIFE
by Byron Lane
(An address delivered by Byron as he accepted his Award at the February 6, 2005 New York UltraRunning Awards Brunch)
Al Prawda once asked me to select the most important thing that has happened to me as a runner.

Running has made me who I am today. It has helped me get through high school and stay organized through college. It has helped me deal with horrible students and their crazy parents. It has helped me make it through the deaths of several friends and two dear family members, and the rigors of being married and of raising two children. Running has centered me, given me a positive outlet for my energy, a forum to compete with myself, and a window through which I look into myself to figure out who I am and what I stand for. Running has helped me develop into a complete person.
Running has helped me focus on, and work toward, a goal. It has helped me organize my life. It is the one constant in a constant sea of change.
About halfway through the 2002 GLIRC Happy Birthday 6-Hour Run, as Al Prawda and I were working our way toward Snake Hill, he congratulated me on running well in the recent National Championship 24-Hour Run earlier that year. He then mentioned Yiannis Kouros—who won the race—and asked if my meeting him was the most important thing that has happened to me as a runner. It wasn't. As nice as meeting Yiannis was, I didn't know him. I didn't interact with him on the day of that race. I wouldn't ever be his friend. Though he will probably be considered the greatest ultrarunner in the history of the sport, to me, his accomplishments pale in comparison to everyone in this room's.
I told Al that running had done a lot to help me become me: physically, emotionally, psychologically, and mentally. I told Al that running had introduced me to the idea of friendship, and that through running, I had learned how to have a friend and how to be a friend.
Whenever I give a post-race speech, I thank the volunteers for helping out at the event. They are up early, help out for hours, and go home late, usually with nothing more than a thank you. If it were not for the volunteers, none of us would be racing.
While volunteers are important, they are not what make our gatherings enjoyable. You are. It's talking to Sal and Vinny and Bob and Richie before a race, smiling at Helma, Audrey, Amy, and Pat as we pass by, listening to Al and Larry and Dave and Nick talk about races that took place decades ago with precision that baffles the mind. It's learning about how Nat and Ted created distance running. It's talking with Collin about how much he likes his new hip pack, hearing about Frank and Charlie's latest adventure, seeing Dennis and Alicja and Kourounis and Andrei and learning what they have been doing for the last few months. It's about asking around to hear if Tracy and Frank and Jodi have healed up and will be coming to the next event or not. And it's about reading that weekly e-mail to figure out where Tim and I will be running next Sunday.
Al Prawda once asked me to select the most important thing that has happened to me as a runner. The answer is easy: it is forming friendships with you. To all of you in this room, I thank you. You make running great.
---------------------------------------------------------------------------------
Lucimar cross trains for Ultra's-read her story here

Snowshoeing in Massachusetts
Curly's Record Run/Walk Snowshoes in Pittsfield, MA (State Forrest Park)

Just to break up the winter doldrums, I signed up for a snowshoe race in MA.
I had never been on snowshoes it's just not done in Brazil, where I come
from. Regardless, I though this could be good cross-training for my spring
ultras. Besides, the race was only four miles with only a 1024' climb
and descent, so what's the big deal? After conquering the JFK-50 Appalachian
Trail, last November, this should be walk-in-the-park.

I picked a great weekend from the WMAC series schedule. The race was on
Sunday. I got there on Friday - yes, during that snow storm. On Saturday,
the race organizers, Beth and Brad Herder, both lovely folks, invited me to
accompany them during the course marking. This was a perfect time to try
on Beth's snowshoes and traverse the course without any pressure.

Initially the snowshoes felt like two canoes strapped to my feet, huge and
awkward. Trying to run in them is something of a cross between skiing and
waddling. Suddenly the four-mile walk-in-the-park changed into a
grinding-tough workout. With Beth's help and patience somehow I managed to
complete the course.

On Sunday, I was feeling much more comfortable. I wore Bob Dion's racing
snowshoe (he is at the races representing the Dion Snowshoe Company and to
assist the runners.) Forty-six of us started heading up a sustained 1.50M
upgrade - no easy task. Only the anticipation of getting to the downgrade
sections kept me going. Eventually the grinding climb was replaced by
terror of falling
while going down the steep downhills. This definitely fulfilled my life's
philosophy of doing at least one thing every day that scares me. Fear is
clearly evident on my face in the pictures.
Nevertheless, I finished the race with a big smile on my face. I was told
that if I did enough snowshoeing races, I'd understand why the Eskimos have
so many words for snow. I will
definitely be back for the challenge.

I loved the snowshoe people; they come from all kind of sports modalities.
Beth is an incredible athlete and also an ultra runner of note, so is Bob
Dion.Brad is a mountain biker. Marilynn Hickey, how gave the ride to the
race, is a kayaker. I want to thank everyone for the generous support that I
received.

I encourage anyone who is interested in trying this challenge, to check this
site http://www.runwmac.com/ . I guarantee that you'll love it.

Lucimar Araujo


In mid December I received a phone call from Lucimar in regards to a snowshoe race that I direct. She informed me that she would like to come to Pittsfield and "take up the challenge" of entering the 4 mile snowshoe race. She also stated she had never snowshoed before, but that she was a runner and had the positive attitude that no matter what she would finish the race. After hanging up the phone, I was certain that she would rise to the challenge.
On the day before the race, I asked her if she would like to go out on the snowshoes and walk the course while I marked the next day's event in orange ribbon. She agreed and we finally met face to face. She was certainly a brave woman for coming 100 miles north of NYC, venturing into the unknown both by never snowshoeing and knowing no one in the area. But meeting her for the first time was like talking to an old friend. I realized that I was talking to her like I have known her all my life.
Lucimar was definitely prepared for the ever-changing weather here in the Berkshires. She came with plenty of warm clothes for layering so she bundled up for the 0 degree temperatures with snowshoes strapped to her feet. It soon was warm enough that she took her mittens off, something I don't know how she could do, especially going downhill where she fell down a couple times.
Having never been on snowshoes or having skied, the downhill is very intimidating. At times the trail is very, very steep and off camber making it hard for one to walk down without catching the front of the snowshoes and doing a nice face plant! Ski poles definitely helped her negotiate the downhill which she was "deathly afraid of". I informed her she could go down on her butt (she definitely did this a couple of times during the race the next day.)
The day of the race, Luci (as my friend Marilyn started to call her) was nervous. Not really knowing what to expect in the foot of new snow out on the course that had fallen in the previous 10 hours. Front-racers had to break trail. For those who are not up "in the front pack" the trail was packed for an easier effort. Today would be a long 4 miles of snowshoeing for all in the race. One hour and fourteen minutes after the start whistle had blown, Luci finished her first snowshoe race with a big smile on her face. Fulfilling her dream of the challenge she set for herself one month before. I think she was surprised that she was not in last place (in the past couple days more than once she had told me she would be at the end).
Luci set a goal for herself and "went for it" with all the passion anyone could imagine. Great job and keep up your "spirit".
Beth Herder
Director-Curly's Record Run
Anyone interested in trying this can check this site http://www.runwmac.com .
Lucimar Araujo
=============-----------
A Run with Alicja
It's not true that ultrarunners hibernate during the winter months - although most are probably a little sluggish.
No so our superstar Alicja Barahona. She's is ramping up for the Alaska 350 mile trek, in late February.
So I got an invitation to join her in the Rockefeller Park (Sleepy Hollow, Westchester) to do an "easy 5 - 6 hours" run this past Sunday. Yeah right, 5 – 6 hours, sure!!!
I invited several runners to join me for the trip and the run. The response was not overwhelming.
However, we managed to put together a group of four runners; Alicja, Lucimar Araujo, Grant McKeown and me.
The park is lovely with nice restrooms and seemingly infinite number of different loops, nice hills, a lake,
some abutting farms with cows and calves, deer, ducks and quite a few other runners. It really is lovely area for running.
After about 4.5 hours of nice running we convinced ourselves that it was close enough to the 5 -6 .
The suggestion to go to a warm nearby diner was quickly agreed upon. As we all know, one of the real joys of running
is the post-run eating and socializing. After the hot coffee and nice meals, Alicja proposed that we go back to do the second part of the run.
Yeah right – no takers this time, just some nervous laughter.
PS. Alicja has extended an invitation to BUS/GLIRC runners who are interested in joining her for a 4+ hour run
at a 9 to 11 minute pace. Contact her at fit4running@yahoo.com
Ojars

Eustratia reports:
On Dec. 11, 04, a few club members went to Houston and ran the Sunmart 50K.
Weather was very brisk in the a.m. but became mild as the day progressed.
The people were great and the aid stations good, but not as good as AMY's.
The New Yorkers swept the field with awards, we showed those good old boys from Texas--
Age group awards: Emma lst - 8:07:01, Sam 2nd -6:53:19, Tim 2nd - 5:26:31 and
Moi - Eustratai 3rd - 8:39.38.
(see picture) The great Yiannis Kouros was there also and came in first in the 50 miler.
Club member Romiro Munoz 2nd - 4:05:40
We all wish our fellow members a Happy New Year and a great running year.
Congrats to Sam Soccoli and John Geesler!
I am back from Arizona and Nevada. Did the 3 day across the years in Arizona.
First of all a big thank you to my crew Emma,Eustratia Kourounis, andTim Kourounis, Especially Tim for the last 24 hours.
Dec. 29 9 AM we got going under rain and drizzle all day into the night. My first 24 hours was well sub par my standar,
the second day was not much better, but early in the evening reach 100 Miles. Send the crew to get some rest.
I went to sleep, at 5 AM got coffee, and my power was back, at that point I was in 14Th place.
By 10 AM i was in 1 0Th. At that point Tim laid out the plants for me, and by morning, with 3 hours to go I was 5thOA.
191.693 Miles and 5thOA, just a dream!!
New Yorker JOHN GEESLER was first with 300.122 Miles, got trophy and 300Miles belt buckle
I got trophy and 100 Miles belt buckel
Sam Soccoli
Frank Dolen reports on the Bridge Run
Update from Alicja
Hello,
I would like to share good news with you. I won
the Trans 555 in Niger! Lots to tell as it was a
very extreme race with temp 110 and soft sand all the
time. I am not sure how long it took me as I dont
know what day it is today. I finished yesterday in 6
days and the next guy came several hours after me.
Greetings to all runners from the dunes of the Niger,
>> > Alicja
--------------------------------------------------------------------------
This is Eustratia reporting for all who care to know.
On Nov. 5, 2004 some of us went to San Diego for the 24hr National Championship Run.
National Titles in age groups went to Sam Soccolli with 82 miles. Sam also broke his previous 12 hour record.
Emma Blaskovich with 65 miles, and I with 70 miles. Club members, BUS members and familiar names to our
races who also participated:Timothy Kourounis 71 miles, Pat Bivona 82, Ed Dodd 102, Jody-Lynn Reicher 49 miles,
Ed Finnegan 101 miles, Roy Pirung 135 miles, John Geesler 125 miles.
The weather was great, the people were just wonderful and friendly (as we all know ultrarunners are like that.)
San Diego was great, lots to do and we did. Lots of things to see, restaurants for everyones palate.
The host hotel was the Dana Inn on Mission Bay, half mile from the race course with two outdoor swimming pools
and hot tubs, large rooms with two queen size beds to accommodate at least eight people and overlooking the bay.
It was a great experience and something to look forward to next year again.
====================


BOB SWEENEY IS 100 MILE NATIONAL CHAMP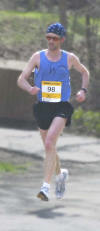 In a stunning win September 11th Bob Sweeney took the AUA 100 mile
national championship at Olander Park, Sylvania, Ohio.

His winning time of 13:05:28 was the fastest American 100 miler in 13
years. Bob led from start to finish and was never challenged. the
second-placer was more than one hour behind.

This win caps a terrific year for Bob but was not a surprise to those
who know a little of Bob's accomplishments. High on the list are his
numerous Sybil wins and the Sybil course record. He has several
international appearances with the U.S. national team and a world-class
sub-7 hour performance at 100 km.

Bob says this year he's done more quality, less miles and lots of hill
work. One happy result on the way to the 100 mile championship was a
strong performance in the famous Mt. Washington "Race to the Clouds" on
June 19. The race covers the last 7.6 miles of the road to the summit
of Mt. Washington (6,288') and represents a hideous combination of
length and steepness. I must add that the weather too is a factor,
being famous for contrasting conditions between warmth at the start
and, by degrees, ice, winds and snow near the summit. The first 400
yards from the start is relatively flat but thereafter the course is
unrelievedly steep. Start to finish the course rises 4,723' and the
grade varies between 10-20%, averaging out at 11.5%.

The weather this year was cold, wet and windy -- but not exceptionally
so. Despite, or because, of its unusual character, the race attracts a
highly eclectic, but very competitive entry, of hill-running
specialists, marathoners and ultra people. Bob was very satisfied with
his 14th place in 1:09, running a whisker over 9 minutes per mile.

No thanks, many would say to Mt. Washington. Around the NY area the
Jan Peek 10K in August is a good test for anyone: hot weather and a
cruel hill. Bob won by 3 minutes this year in 34:20. A month earlier
Bob achieved a new 5Km PR going sub 16 at the North County News race.

Bob wondered about his new-found leg speed. Perhaps a marathon PR
(sub 2:30) was in the cards.

Somehow, marathon thoughts morphed into the 100 miler. The site of the
race was Olander Park in Sylvania, Ohio (near Toledo apparently).

The race started at 10 a.m. Saturday. Bob's win in 13:05 brought him
to the finish one hour before the second runner. It also made him the
only runner to finish on the same day!

The 1.09 mile track around the park was about 50% shaded. This was
helpful given heat which lingered in the low 80's through much of the
daylight hours. Despite a checkered record in warm conditions, Bob ran
steadily from start to finish and was never challenged.

Bob's first 50 miles was about 35 minutes faster than his second. His
pace -- stunning to a middle-of-the-pack runner -- averaged out to
7:51 per mile. His marathon times are meaningful to many. He ran the
first 26.2 in 3:11, continued steadily for 47.6 miles and finished off
with a 3:40 for the last 26.2. What a great day's work!

This has been a very good year for Bob. And limited miles and easy
running are probably in the cards for a while. His fast twitch and slow
twitch fibers have had a good workout. Perhaps its time for the fast
twitchers to do their stuff again.
David Farquhar




=================================
8/14/2004Congratulations to Rudy and Juan-who finished 1 and 2 in the
Around the Lake Wakefield 24 hour ultra run!
Rudi set the new course record, completing 133.6 miles and
Juan completed a not to shabby 105.2 miles!
=========================================
Hi Larry and Vinny--
>
> I participated in the Wild by Nature Greenbelt Run this past Sunday and
wanted to express my heartfelt thanks for such a great run! It was my first
ultra and an amazing experience. I loved every minute, hour and mile of it.
It was well-organized, and I wanted to thank all the volunteers and
organizers--could you please pass this on to anyone involved so they know
how much their work is appreciated? Please also pass it on to the folks at
Wild by Nature. I shop there often and will continue to do so because of
their support for events like this.
>
> What I loved about this run was the trail experience--I saw big herds of
deer, including some antlered bucks, in Connetquot, saw several red-tailed
hawks and a lot of black swallowtail butterflies, found a rare orchid
growing right on the trail, and loved the views and the varied terrain and
the chance to see parts of the Island I've never visited before. I've always
wanted to walk or run from one shore of the Island to the other and this was
the perfect route.
>
> Since this was my first ultra, I just wanted to finish. A second goal was
to enjoy the run and finish happy. My longest run this season was only 10
miles, so I knew that I would be walking a large portion of the route. I
walked most of the first 20 miles, then switched to running. It was a great
choice-- I finished fresh and happy and feeling like I could have run many
more miles. I'll definitely be back for more ultraruns!
>
> Thank you again for this wonderful run!
>
> Kelly "Grace" Winters


Bridge Run-July 11, 2004
The Bridge Run was put on by BUS (Broadway Ultra Society) on Sunday July 11,2004.
The temperature was around 87 degrees but with low humidity.
As this was the first 50k race that I had attempted in over 5 years, you can imagine how nervous and apprehensive
I was- would I be able to finish? Would I be in agony after hitting the wall for the first time in years?
Overall the course was beautiful-crossing over the George Washington Bride provided a once in a lifetime
panoramic view of the Hudson Crossing!
Running down the west side of Manhattan made one truly appreciate how magnificent Manhattan is
and it should be experienced by all runners!
As for the event itself, once can not ask for a better race- great scenery, a relaxed and friendly atmosphere,
a truly well marked course, where even I could not get lost (and that is saying a lot).
The aid stations were well stocked and the volunteers all seemed to be veteran Ultra Runners-
who rather than saying "you look great", knew exactly what to say and to tell you what you needed to do to survive!
I can not say enough nice things about the Race Organizers, volunteers and most important of all-to the fellow
Ultra Runners-who encourage everyone, and show concern for all their fellow runners.
There may be elite and super star runners-but you would never know it- everyone talks too and encourages each other!
As it turned out, I finished in a respectable 6 hrs and 2 minutes (respectable for me anyway ) and felt strong
until about the 28 mile mark. The Triboro Bridge at mile 28 was definitely a challenge-it seemed to climb forever!
My personal thanks to Greg and his lovely daughter, and to Helma and Al for putting up with my whining,
and for all the encouragement they supplied, when it was needed!
I would highly recommend this race to every Ultra Runner!
Brds Larry
sSome news from Alicja June 04
have just finished the Ground Union Canal Race in
the UK (May 29) and I am pleased to tell you that I
was 6th overall and i won the Lady's event again. For
most of the race I thought I was going to be 2nd and
beat my last year's time but 145 miles is a long way
and things can go wrong - as they did for me in the
last 12 miles where it took me 5 hours to complete
(the 12 miles distance). I hobbled to the finish line
with terrible blisters! I attach a picture which shows
me on the trail and from the finish line with a great
medal and magnificent trophy.

On May 1st in Toronto I won 100km with time of 9:29!
Two big races in one month!
Alicja Barahona 333k across India-fascinating reading!
We are back from San Diego where the weather was good.
The USA Track & Field 2003 24 Huor National Championship was run
It stared Sat 18 10AM, with 81 runners, with some of the best in the country.
It was a bit hot in the morning.
The race track is in La Jolla (University of California ) a very nice area.
The scoring done with computerized chip.First time for me, as we were going around
a large screen ( like a TV ) was giving us name, loops count, miles, Km., pace, and Div.pl., age.
Myself, and Emma had some problem but we overcome them and finish ok.
I took the gold 70-74 with 86 miles,Emma took her gold 65-69 with 75.81,
and she also took 9th. O>A> in the women's ( an other nice medal ).
Broadway member Ed Dodd was there Did 100.44
The volunteers & the peoples was really great,cheering us to the finish.

Sam Soccoli Emma Blascovich
====================================
Caumsett feedback!
Hi Vinny,
you don't have the luck of the Irish,but then again the rain was better than ice & snow.
GREAT JOB SAM Many thanks to all the volunteers


Dear Vinny
In spite of the dreadful weather and my terrible time, the 50k was great.
You and all your helpers did a wonderful job.
The course (that is what I could see of it through the rain dripping off my hat) was beautiful.
I would love to see another ultra take place there, that is in a warmer weather.
As always, thanks to the many volunteers who also endured a dreadful day. I sometimes think they have a harder job than the runners. Once again I will say that you have the best aid station of all the ultras I've run, and the post-race food was great.
Thank you.
Pat Delaney
---
__