In honor of John Kenul, we ask that everyone submit a story or anecdote
involving John- we will compile them on one page for everyone to view.

IN MEMORIAM - JOHNNY KENUL
November 8, 1943 - May 14, 2005

On May 20, 2006, Immediately prior to the start of this year's Nassau-Suffolk Greenbelt 50 Kilometer Run, the ultra community gathered at the place where John Kenul passed away during the 2005 edition of the Run, to dedicate a special permanent stone memorial that has been placed at the spot.
A short ceremony was held, MC'ed by Rich Innamorato, and with some very special thoughts shared by Johnny's buddy Bruce Kacen, Gary Muhrcke (who was the last person to speak with Johnny last May 14), Oyster Bay Town Councilwoman Rose Walker, and New York State Assemblyman Rob Walker. It was a moving ceremony indeed, and one that did proper honor to Johnny's memory.
What follows is what Richie Innamorato said:
He was small in stature, but a giant in humanity. He was artistic, hardworking, introspective and kind. But first and foremost – especially to him – he was a runner.
He was usually at the back of the pack and would even finish last on a number of occasions. But he was a champion among us. He never wanted much, just a bib number – and an opportunity.
He ran without fanfare. All he ever needed was his heart. A heart that propelled him to complete 100 marathons and 350 ultra marathons. His persistence and that heart even won two ultras. A heart that stopped at this very spot on that fateful May 14th day.
His name was John Kenul, but we universally knew him as just "Johnny." Yes he did take his last step here. But let us remember the millions of steps he took before. Johnny represented everything good about ultra running, the challenge and its simplicity. And besides that, he was also a heck of a nice guy.
We honor more than just an ultra runner. We honor a legendary pulse that still beats today – that still beats in every one of us. Johnny would like that. Bless him always.
PHOTO 1: The Memorial to Johnny
PHOTO 2: Pictured here at the dedication ceremony are (L to R) Ultra runner Sherry Bellovin, Gary Muhrcke, Oyster Bay Town Councilwoman Rose Marie Walker, New York State Assemblyman Rob Walker, Greenbelt 50K Run Director Nick Palazzo and Deputy Director Bob Sherman



========================================
---------------------------------------------------------------------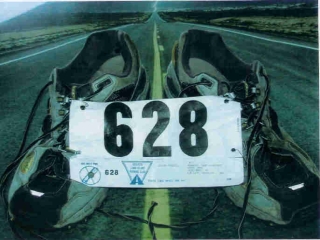 the last race!
On the Saturday morning of May 14th, 2005 I had volunteered to help our friend & race director,
Nick Palazzo with his Greenbelt 50-K Ultra. Little did I know what was in store for all of us.
I drove over to the GLIRC clubhouse in Plainview, arriving about 7am. There were alot of familiar ultra faces there-
everyone was preparing to do what they liked best - run an ultra event. Among them, I saw Johnny KENUL- we said hello to each other
and he replied with his usual "Johnny-Boy, Johnny-Boy". I'm not sure WHY he always said that- he just DID.
After hurriedly gathering all my stuff for the aid station on Jericho Tpke in Woodbury, I drove over there.
Rich Innamorato had already told me he that would be there, shortly. Instead, I received that awful phone call (on my cell phone,
from Richie).......... Our Johnny had suffered a heart attack & was being transported to a hospital.........
A subsequent phone call confirmed our worst fear- He was GONE from us........
First the sorrow and anger hit me, then the reality of it all - Johhny Kenul had gone from simply running our 50-K ,
to that ultimate run that we all will someday take - " The Ultra To Eternity ".
Johnny-Boy ( # 628)- you are GREATLY missed, by us all.
Rich Czarnowski



Vow Tim........for me it is not to belive of John Kenul...... how can he passaway and leave all ultra runners like orphons......
Ultras can never be same for long very long without johny Kenul...sad ,sad very sad
Good luck and much fun for you in Canada and vemont.....Cahit
I'm shocked of john Kenuls sudden dead.....he was a gentleman and a real sportsman
I belive ultras will not be same without Johnny .....he will be missed very much
Cahit Yeter


Johnny Kenul always greeted me with a smile and we exchanged mutual "Bonjour", alot of small talk after
that but he always welcomed me, saying 'hey NJ Boy' you look good! I gave him a muffin while we were running
in a 50-mile race in Long Island and he held it in his hand for over 30-miles,
said he would eat it...(after) he finished! God Bless-John
Al Byrnes-nj boy


On my first Ultra (1998) Johnny was there, and on all the ultra around here.
He was a very kind, nice, soft spoken.
Only on one occasion did I spoke to him for longer time. He was born 40-50
Miles from where I was born, but did not remember much.
If there was one person with willpower it was Johnny.
We the back pack will miss him, where ever Johnny is? He is not in the back.
Sam SOCCOLI

3 Days after the Greenbelt we left for the Islands where I was born (now Croatia) I did
organize a Memorial Run north to south , 2 island 85.5K it took me 13:12:22 to finish
3450' tot. Elevation, Emma did with me the last 4 hours. I did raised some $ for the restoration of an old Church.
Then the 28 of May we did again Passatore 100K in Florence, Italy.
At the start 3PM it was in the 90' I was a bit slower that last year, Emma had stomach
First, and then back problem but did finish. We were 2 of 3 American in the race.
Sam Soccoli
------------------------------------------------------------------------------------------------------------------
When I did my first 100 mile Pioneer run, John stayed with me on the second day. I was very tired and not sure I could do the second day, never mind the third. He told me "that the second day was the hardest and if I stayed with him I would finish it. Then all I had to do was show up on the third day and the rest would take care of itself." I stayed with him most of the second day and sure enough, when I showed up the third day, I knew he was right. I finished faster the third day, than the second day and felt great!
He was a kind person and a real inspiration and I will never forget him.
Nita Zackson
-----------------------------------------------------------------------------------------------------------------
The first time I heard John Kenul's name was at a R.Innamorato ultra. 300 hundred ultras!!! I just could not believe it. Who was this Man??? Well as the years passed, I found out who that man was. A very gracious gentlemen, a man who always had a kind word for everyone, a very very determined individual, who encouraged others at the ultras. John always said such good things to me, but the nicest was at Sybil Ludington this year. Being it was my first Sybil, we decided to go out together, after awhile John said "Go, don't stay with me." I did and when John saw me at 18-1/2 miles he said "Keep it up, you are looking great. Just keep going."
I will miss him very much. We practically ran all the races together. We would walk, jog and even run. We had good times and a lot of laughs.
I will miss my running partner, but more important I will miss a fine gentleman and a gentle soul who encouraged all the runners at one time or another.
Keep watch over us Johnny, you and the Big Man up there!!!!!!
Eustratia
-------------------------------------------------------------------------------------------------------
When I first got into Ultra running, I would see Johnny as I was passing him.
We never exchanged words or a smile. Johnny was not the type to talk to people.
After several Ultras I took the bull by the horn and spoke to him.
From that day on, we always would speak briefly. When I think of Johnny,
John Denver's lyrics to the song "I am Sorry" , comes to mind. .
I am sorry about the things I never said (what a wonderful person you were).
I am sorry about all the things I said ( you are running great).
But most of all I am sorry for myself ( for not getting to know you).
Johnny you beat us to the Finish Line and I know you will be waiting for us.
You will be greatly missed. Helma Clavin
---------------------------------------------------------------------------------------------------------------------------------------------
I have another "we couldn't have done it without him" story about John.
It is a testament to him as a runner and a person that he is remembered this way.
I don't remember the details--not the year or the place involved--but John was part of a BUS team
that placed in the team competition at the 24-hour national championships.
When we were called forward for our awards, he was embarrassed to come up.
I assume it was because he did not have a high total for the race.
But where other team members had dropped out for one reason or another,
John had completed the entire race and ended up as the third scoring member of our team.
We definitely could not have done it without him.
Dave Luljak
---------------------------------------------------------------------------------------------------------------------------------------
Johnny taught me how to run Ultras during my first one - the Sybil Ludington in 1995.
I found myself with John at the back of the pack after bonking, and I finished by following his pattern
of walking the hills, running off the crest and cruising the down hills.
As an inveterate back-of-the-packer, Johnny kept me company for the next ten years.
I can't imagine a race without him, except that he will always be with me.
Thanks Johnny, and lots of love,
Deborah Redding
--------------------------------------------------------------------------------------------------------

On my office wall is my plaque for the 3-day Pioneer Trek 100 mile several Labor Day weekends ago.
I remember it was sweltering and humid and that the Prospect Park lake
(the second and for me the toughest day) had a noxious sewage problem, and I was suffering through
lower back pain and feeling a tad sorry for myself, wondering how I could get my engine running again.
Then John Kenul, bringing up the rear of the pack, came chugging past me using his walk-run-walk-run strategy,
and I realized he had just demonstrated the solution: No matter how bad you feel, you can still keep moving forward,
even if you have to walk. And together -- playing "ultra leap frog" -- we finished within a minute of each other.
Thank goodness there wasn't a cut-off limit. At the practically deserted finish line, I joked, "I won! I won!"
He looked at me as if I were a piece of junk mail: "Okay, okay, you won."